Welcome to Eddie's Lair- The Iron Maiden Wiki
Edit
A wiki all about Iron Maiden!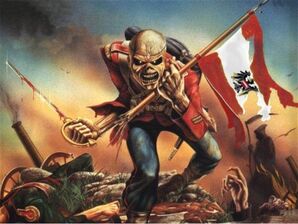 Iron Maiden is an English metal band created in 1975 by bassist and song writer Steve Harris.
Originating in East London, the band first gained worldwide popularity with it's third studio release, The Number of the Beast. Iron Maiden has now put out a total of 15 studio albums, (as well as 10 live albums, 4 EP's, and 7 compilations) with their most recent studio LP being The Final Frontier.
As of 2012, guitarist Dave Murray has said that "it's possible there will be another album, but it's hard to say at the moment." "It definitely won't be next year, anyway."
Information on the band's current and past members.
Click here for Iron Maiden's complete discography.
Iron Maiden News
Edit
8/17/12
Iron Maiden is ending their North American Tour "Maiden England" on the 18th of this month. Their last stop will be in Houston, Texas, USA. Stay tuned for dates for their upcoming world tour.