Background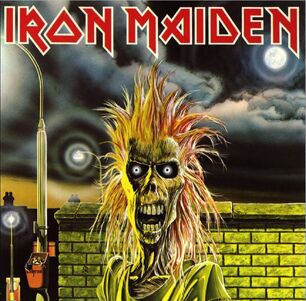 Iron Maiden is the eponymous debut album from Iron Maiden assigned to EMI records in the UK, and Colombia Records in America. It was originally released on April 14th, 1980, but it wasn't available in the United States until August 17th of the same year.
The album is well known for it's raw sound and hits like Running Free and Phantom of the Opera . Although the production of the album (done by Will Malone) is widely criticised, that didn't stop it from recieveing countless good reviews following it's release. Critic Geoff Malone, a writer for the now-retired British magazine Sounds, praised the album for it's creativy. He stated that it "makes the heavy rock tracks from the 60's and 70's sound sloth-like and funeral-dirgey by comparison."
Iron Maiden is the first album to feature the fictional character Eddie on the cover. Steve Harris picked out the artwork from several different works by Derek Riggs, this particular painting, originally titled "Electric Matthew Says Hello," being the only one he liked. Before the zombie-like creature's adaption into Eddie, he had no hair. Riggs had initially intended the art to be used for a punk act, rather than metal.
Track listing Edit
Iron Maiden's line-up durning the recording of their debut album is as follows:
Vocals- Paul Di'Anno
Bass/Vocals/Songwriter- Steve Harris
Guitar- Dave Murray
Guitar- Dennis Stratton
Percussion- Clive Burr